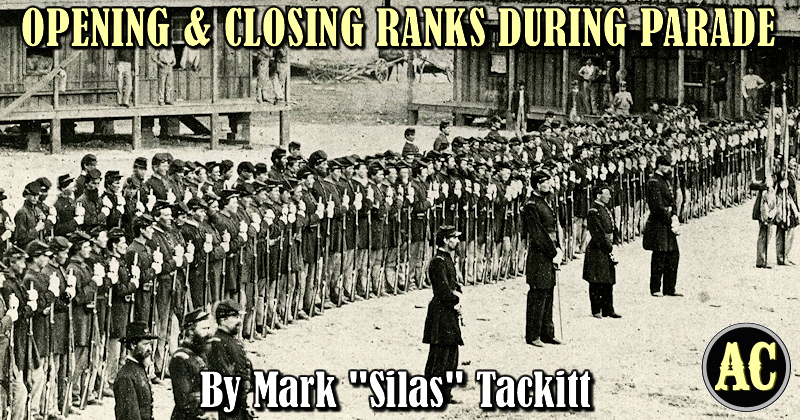 An Explanation of the Procedures for Opening and Closing Ranks During Parade
By Mark (Silas) Tackitt,
Former Assistant Inspector General, Army of Tennessee
Copyright 2008. All Rights Reserved.
Introduction
There is much mystery and misunderstanding about how ranks are opened and closed during parade. This article unveils the mystery and provides understanding about this process. Emphasis is placed upon knowing the guides during the various movements and touches upon understanding the complex social hierarchy which make parade a fascinating subject.
The seemingly complex manoeuvers for opening and closing ranks during parade are broken into small components for easy comprehension. Topics include each of the individual commands from the adjutant plus the duties and expectations of the participants. Closing of ranks with and without inspection of arms is also explored.
Citations are all to Hardee's Revised Tactics (Raleigh, 1862), but parallel citations are also included for Casey's (1865) and Gilham's (1861) manuals. Applicable paragraphs from the Infantry Tactics and the Army Regulations are included at the end of this article. When citing to the School of the Battalion, the author has used the initials, SoB. Similarly, SoC is used for the School of the Company and SoS for the School of the Soldier.
FOR THE FULL ARTICLE INCLUDING DIAGRAMS SHOWING THE MOVEMENTS, CLICK HERE